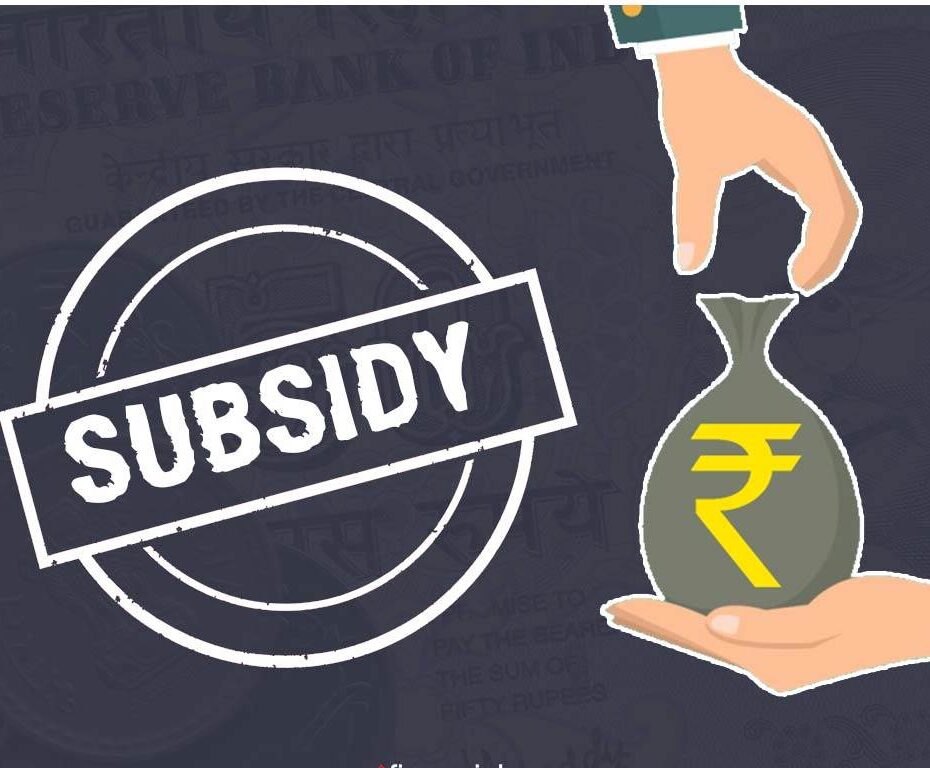 Solar Subsidy in Delhi- Grid connected rooftop Solar power plant 2019
Updates from SolarOcta HQ
SOLAR SUBSIDY IN DELHI
It has been a while since we have posted our updates on our blog.
This has a reason though, work more than you talk as our team likes to hustle and be low profile. As we believe actions speak louder than words.
Recently a lot has happened,
We are working tirelessly to enhance the installed grid connected Solar PV capacity in Northern parts of India.
And with this, we have been closing on 1 MW target.
In the meanwhile, onto residential rooftop portfolio.
No subsidy since our inception
But now!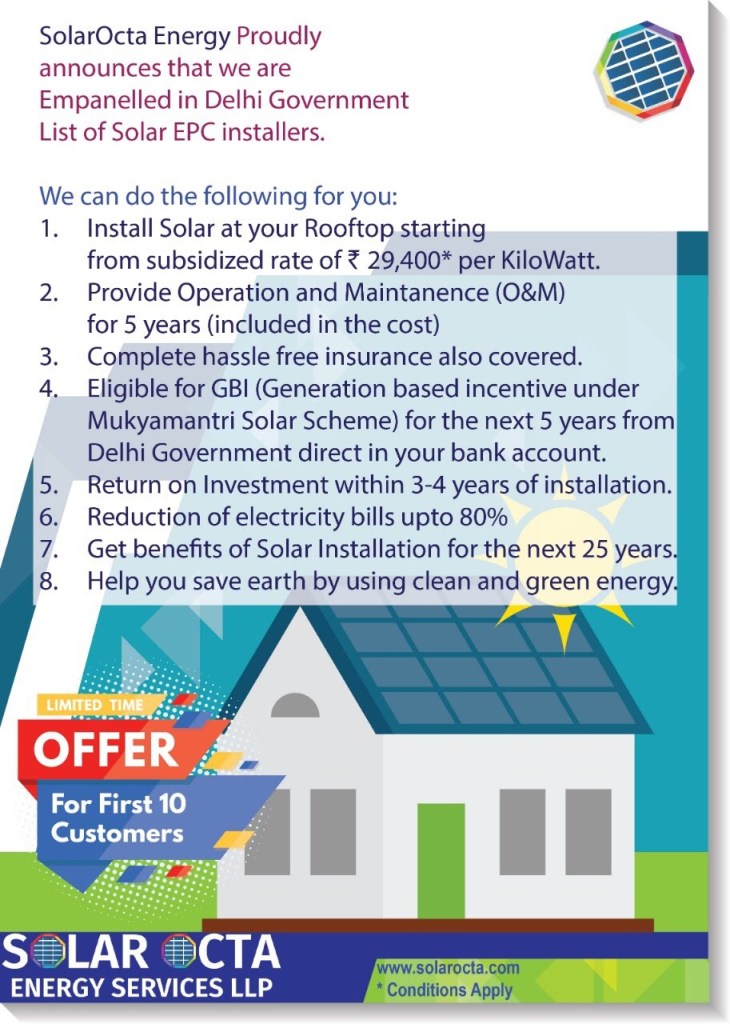 We are based in Delhi and have been working for the past 2 years, without any subsidy to our customers from government, as the benchmark costs set for subsidy consider low-quality components and only generic brands can be considered for the set price band, which compromises the system designed for 25yrs, and puts a second thought about the operation and maintenance and warranty claims from these not so popular brands, thus we never considered subsidies as a part of our working portfolio.
Come 2019, our 3rd year of operations.
We still consider you should opt for a solar power plant regardless of the subsidy provision by our government because Government policies should be considered as a helping hand to the needy,
Government subsidy on the solar power plant is considered on the lowest quoted benchmark cost.
Which here in Delhi, for Residential consumers is set at INR 44,100/KWp. For a plant size between 1 to 10 KWp.
And this is the last time our government is providing a Subsidy of 30% of the above-mentioned amount.
this subsidy is for Residential and institutional consumers.
(varies as per Govt. Between INR 12,600 – 13,200 per KWP)
And For once,
We wanted to provide this option to our consumers who are dependent on subsidies to choose their independence from electric bills.
From June 1st, the policies have been changed and the new projects which will be proposed by Government after September would only have a Subsidy of 20%. for up to 10Kwp plants, only for Residential consumers.
Now, We at least once wanted to know how these subsidies and government departments work and cater our Sustainability development services towards customers depending on government subsidies.
Thus, we applied to be a vendor for the government of Delhi NCT.
And agreed to the norms set by DERC and IPGCL.
HERE IS THE ANNOUNCEMENT!
WE ARE NOW EMPANELED UNDER DELHI GOVERNMENT TO PROVIDE UP FRONT SUBSIDY TO FIRST 10 CONSUMERS.
We have a limited quantity of 100 KWP for subsidy disbursement.
Only valid for Residential and institutional consumers of 1 to 10 KWp plant size.
Now the best part, this subsidy is valid on both of our premium and economy options.
*Only Indian brands for Solar Panels.
*Only inverters with 40% domestic manufacturing are eligible for the subsidy.
So cross out the micro-inverters.
We reserve the right to consider which 10 customers will be provided this subsidy on first come first serve basis.
Insights to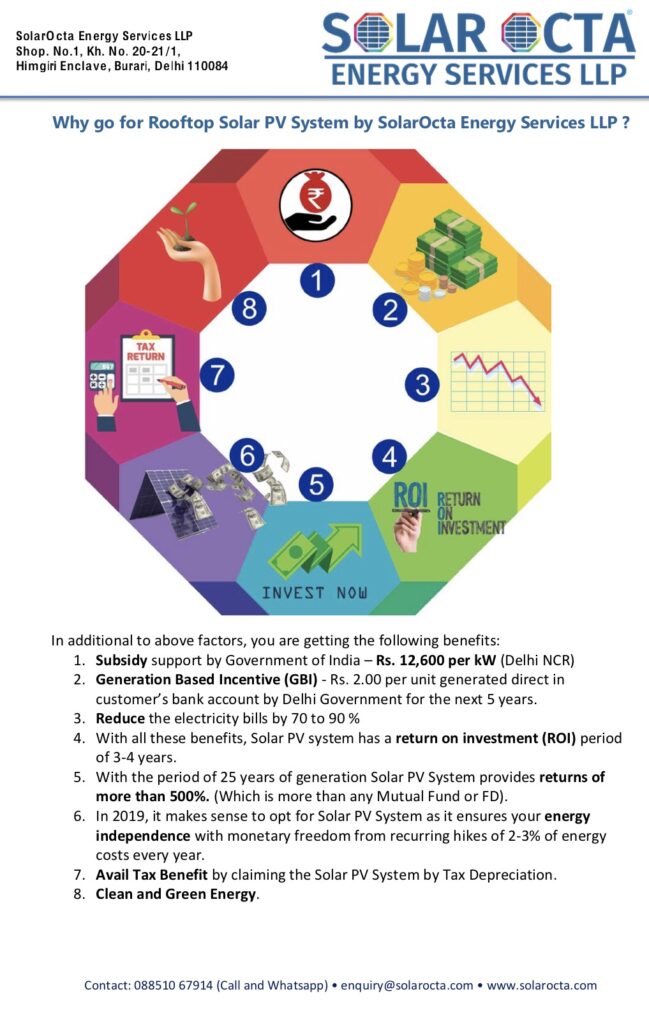 GBI – GENERATION BASED INCENTIVE
This is a special scheme only available for Delhi.
Referred as Mukhya Mantri solar yojna
In this scheme,
All rooftop solar power plants installed by an impaneled vendor in the year 2019, will be eligible for a monetary incentive by the Delhi government.
This incentive is capped at INR 2/kwh unit generated by the solar power plant,
Can be used for self-consumption or injected into the discom grid.
For each unit generated by your solar power plant, you are going to receive a credit into your bank account every 6 months. I.e twice in a year.
This payment will be effective for the next 5 yrs.
The incentive is capped at 1100 units per KWP installed Capacity per year.
So, if you install a 5 Kwp system,
It should generate 5500 units in a year, Acc. To Delhi government norms,
So 5500 x INR 2 = INR 11,000 EACH YEAR.
( SPLIT IN 2 PAYMENTS, INR 5500 every 6 months credited into your bank account)
INR 11,000 X 5 yrs = INR 55,000 in 5 years.
This is an added incentive we as an Empaneled vendor can provide to our customers opting for net metering in Delhi.
This is the benefit which will be provided to all our customers, regardless of the first cum first serve subsidy internal clause.
Effectively,
You are not only saving money on your electricity bills by consuming clean electricity generated by solar energy in the daytime, but also getting paid to use that clean energy as an added bonus.
This GBI, helps our consumers get ROI in under 4 years, no matter how expensive system they opt for.
If you own a Rooftop and have electricity consumption, duh
Which we all do, this summer is all about AIR CONDITIONING.
Going solar for all your Electricity Needs,
MAKES ECONOMICAL & CONSCIOUS SENSE.
SO,
WE HAVE TRIED OUR BEST TO MAKE YOU OPT FOR A SOLAR POWER PLANT.
NOW IT'S YOUR TURN TO SHOW SOME EFFORTS AND SWITCH TO A RENEWABLE ENERGY SOURCE.
AN USE THE AC all day without any guilt of having large carbon footprints and causing emissions to stay cool.
Regards,
Team SolarOcta
Enquiry@solarocta.com
Call today +91-8851067914
Whatsapp and tell us how we can help. +91-8851067914
SUSTAINABLE DEVELOPMENT WITH THE SUN